Explorations and shorter projects 2016-2018
SOUND CONCEPT FOR MERCEDES-BENZ.
In this one-day course at Umeå Institute of Design, with the help of a music artist and professional sound designer Andreas Estensen, we focused on attributing meaning and bringing expression to a car. We were given the task to make a sound concept journey for the Mercedes F015 (both vehicle and the application). How would the brand express itself to sound?
VIEW PROJECT ON MEDIUM HERE
TEAM
Sebastian Miura, Kristjan Juks (Advanced Product Design)
SKILLS / TOOLS
Sound exploration, Sound concept, Sound boards, Massive, Audacity
PROJECT TIME
2 days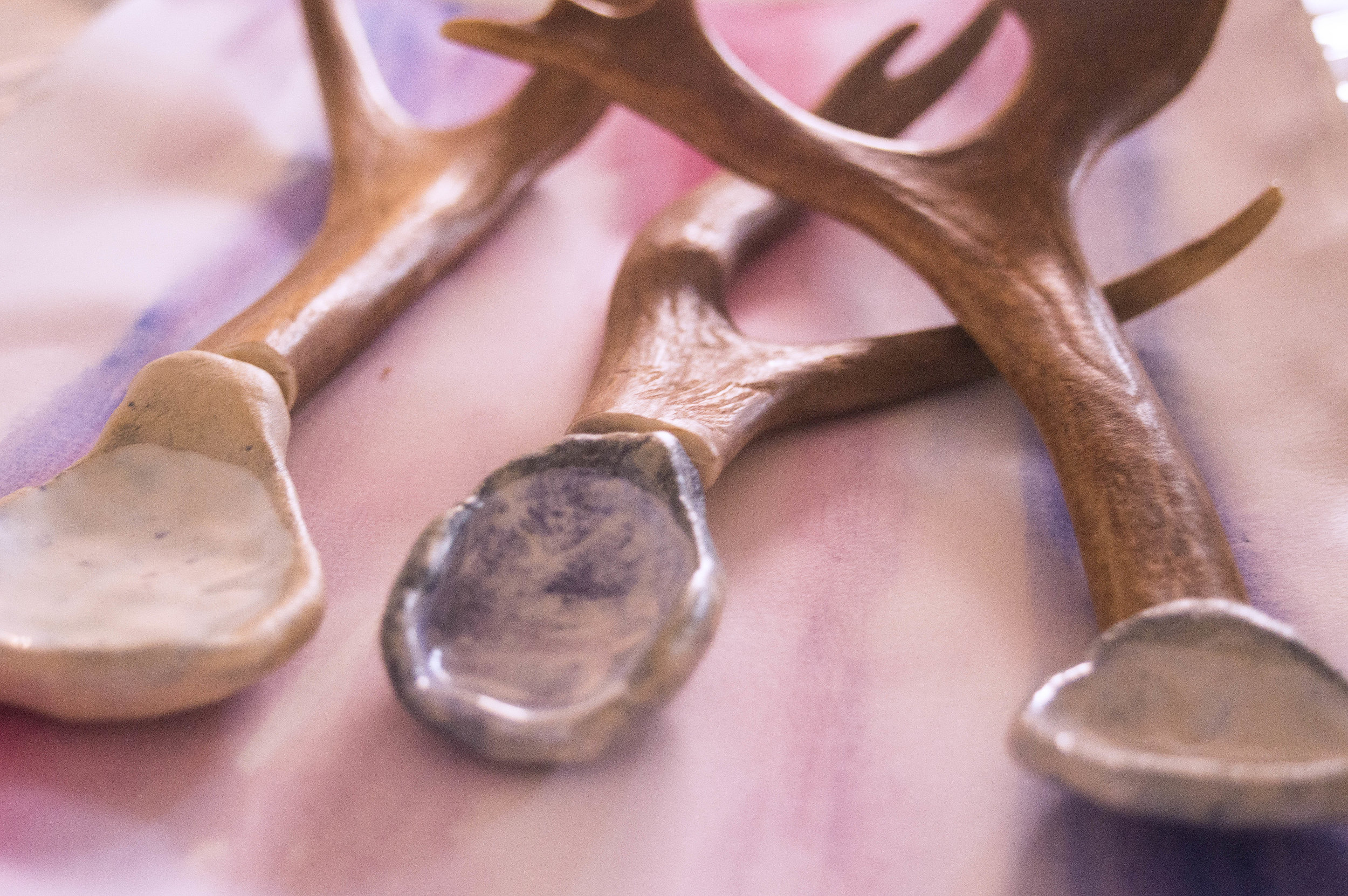 CERAMIC FORM EXPLORATIONS / INSPIRED BY HOME.
A few weeks of ceramic works, inspired by themes and organic shapes from the north of Sweden. I first explored sketching and water color, to see how layers affect each others. Then I made the shapes into cutlery, plates and bowls. I had some reindeer horns at home that I assembled with the ceramics.
PROJECT TIME
Individual, 4 weeks
SKILLS / TOOLS
Form explorations, clay work, refining tools, layering, assembly, glacing
GIFT BOX FOR A LOCAL BEAN-TO BAR CHOCOLATE BRAND.
In this packaging project I did a from scratch packaging project and research on the bean-to bar process in hand made, bean-to-bar chocolate for Vintage Plantations. I visited the chocolate factory and did desktop research on the chocolate making process. I wanted to match the artisanal expressions of the brand. The illustrations expresses the process of the chocolate bean- from a small plant to the roasting of the beans. The final gift box is sustainable, in a a model that is made from a recycled paper. I made the template foldable, and no glue is used in the process.
PROJECT TIME
Individual, 4 weeks
SKILLS / TOOLS
Packaging research, template structure, vector illustrations, typography, logo creation
DIGITAL CHECK-OUT EXPERIENCE
Extracts from a shorter project I did about a digital checkout service for an ecological food store. Exploring how to visually show a user journey, even if the user journey is mostly digital.
PROJECT TIME
Individual, 1 day
SKILLS / TOOLS
User journeys, Wireframes, Ideation, Sketch, Illustrator
SMART HOME COMPANY - LOGO AND BRAND IDENTITY
Logo, branding project for an electricians company.