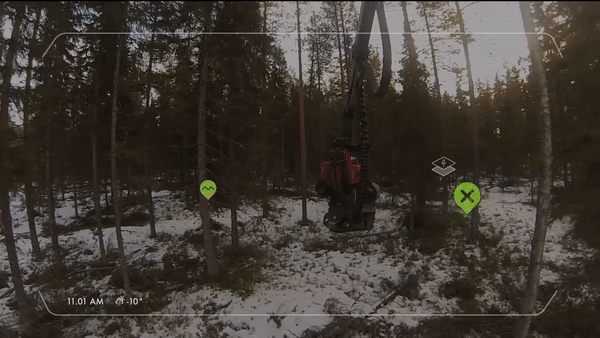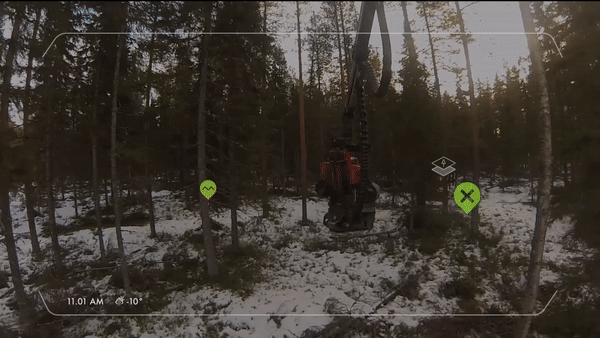 ALLI
PROFESSIONAL USER PROJECT / FOREST INDUSTRY HUD
This project was done together with the combined clusters for northern forestry industries in Sweden. The aim was to improve the motivation of forest operators. It led us to a journey of deep immersion in to the system of the industry and found strategies on how to improve professional users work environment.
Alli is a digital platform bringing instant feedback in to the operators decisions through a HUD and application. The solution promotes a nature sensitive, efficient and healthy working environment for the operator inside the deep forests of northern Sweden.
TEAM
Mehek Sharma, Maximillian Herr (Interaction Design)
SKILLS / TOOLS
Design research, co-creation, task analysis, mapping, HUD concept, After Effects, Sketch, Principle
PROJECT TIME
6 weeks during the Professional User course
Developing a new set of icons that could be legible in the forest, projected on the HUD smart glass. The design system was created with clear colors and an iconic sign language. To create this, a chart and task analysis was done, containing exactly what would be important for the operator to see at any instant moment.
Green refers to nature acts (acts for preservation), blue stands for for water preservation, and white would represent for which kind of tree to cut and tree characteristics.
Digital map and Reporting
Simulating how the operator could digitise the endless paper work, and make it easy to track data, and interface for the feedback-application was created. Menus includes an overview, personal profile and a report-section. Preservation acts with care of nature and ground (good deeds) could instantly be reported and be rewarded systematically, resulting in an more sustainable and long-term profitable industry.
Feedback assistant
UI for the in-cabin tablet. Since this was not the main focus of this project, this was a short finalisation of the project done in 2 weeks. The UX/UI expresses something accessible and clean, providing easy visual feedback and progress by charts.
ETHNOGRAPHIC RESEARCH
We did various contextual study visits in the forest operators work day. We began to understand the workflow as well as the emotional and physical pain points. We found the main pains in the lack of feedback of work progress and encouragement from the system.
SYSTEM MAPPING
Understanding the importance of a sustainable forest regeneration
and the actors different roles.
We did video sketching and ideating around digital feedback for the operator in his daily life. How would the system greet him in the morning?
IDEATION - CO CREATING WITH THREE DIFFERENT STATIONS
We hosted two co-creative session with important industry stakeholders as well as operators. In one of them we asked them to map out in real time what feedback they needed, and when. Feedback came as very important, on trees, type, piling information etc.
TECHNICAL ASPECTS
We researched on TLS (Terrestrial Laser Sanning) technique and found that this technique could enable tree detection in to the finest detail. We decided to apply this together with a mock-up of an application. We included aspects of health (the device measures how many breaks the operator takes), facilitates feedback (HUD) and gives post-feedback (daily, weekly and monthly progression) that he can share with team leader.
The well-being part for the operator is very important, this way he can do his job efficiently.
STAKEHOLDER, SKOGSTEKNISKA KLUSTRET
MY ROLE AND CHALLENGES
In the project I was part of the whole process, mainly focusing on the ethnographic studies, user journey mapping to unveil the daily interactions of the forest operators and task analysis mapping. The final graphic design work I did in After Effects, Sketch and Principle.
Our main challenges were to really understand the system, and narrow a complex system down to a solution that really would benefit the forest operators. They operate at the instant moment, but still needs feedback, and our solution aims at assisting both. I learned much from working with this type of classic interaction design approach. The project was heavily focused on research, and working with real professional users taught me a lot.
For this project I was chosen together with a colleague Lukas Flynn to present my teams (Mehek Sharma and Maximillian Herr) concept at the "Forestry Day" event, in Stockholm to all industry leaders and with the presence of the royal king of Sweden.