CIRCULAR BIKE ECONOMY. EXPLORING BIKING IN CO-CREATIVE PRACTISES.
How can we create shared urban mobility systems?
This project was done in cooperation with the municipality of Umeå. We were given the task to design an exhibition for co-creation and apply critical design-thinking. Throughout the whole design process we iterated and staged a service for the public with different probes and provo-types.
While exploring urban mobility in the city of Umeå, which tensions could be found in the society? How could these tensions be addressed to bring awareness to better mobility?
Our team chose the notion of second hand market of biking. We staged a service around the city, and used the snowball technique of interviews and field studies to gain insights of the needs. The results suggests a circular design economy as the solution to a wasteful and inefficient system.
The final outcome is a interactive exhibition, which was displayed for the public and our stakeholders through the use of interactive prototypes.
TEAM
Nicole Waniowska, Borut Kerzic (Interaction Design)
SKILLS / TOOLS
Co-creation, Circular design mapping, Service interventions, Arduino, Sound Design, Graphical elements, Exhibition
PROJECT TIME
5 weeks, with aim of staging an interactive exhibition
TRY TO GET RID OF A BIKE
In the first experience, participants were given a bike and a persona, based on real life people and events we encountered in our user research around Umeå city.
WATCH OUR SUGGESTED SOLUTION
The visitors were then given the chance to watch our circular design service suggestions in short explanatory videos.
REVIEW STATION
At the last station the visitors could review our created services, or create their own.

A circular bike economy
TODAY VERSUS TOMORROW
ETHNOGRAPHIC FIELDWORK / PROBLEMS WITH THE CURRENT BIKE SYSTEM
We started with the technique of snowballing, where one personal interview around biking led us in to a personal context to another, from bike organisation to bike organisation.
These narratives where tracing us through the complex system of buying, repairing, keeping, selling, recycling and disposing bikes in Umeå. We visited bike shops, repair shops, the police station, recycle stations, NGOs, Umeå University Campus, and real estate owners.
THE IMPOSSIBLE GAME / CO-CREATIVE WORKSHOP
To understand how people would react to our research, we staged a co-creative session. Our ethnographic insights had led us to a system of bikes and subsequent problems, and now we wanted to test if people would be aware of the issues in a game setting.
In the game you we given a persona and a bike. Your task was to get rid of it, and as the truth is today in Umea, it is very hard. When you saw no way out and you tried all the stations we had given our colleagues roles as "the saving angels" as in bike NGO:s.
Highlighting the invisible NGO:s, not part of the official system.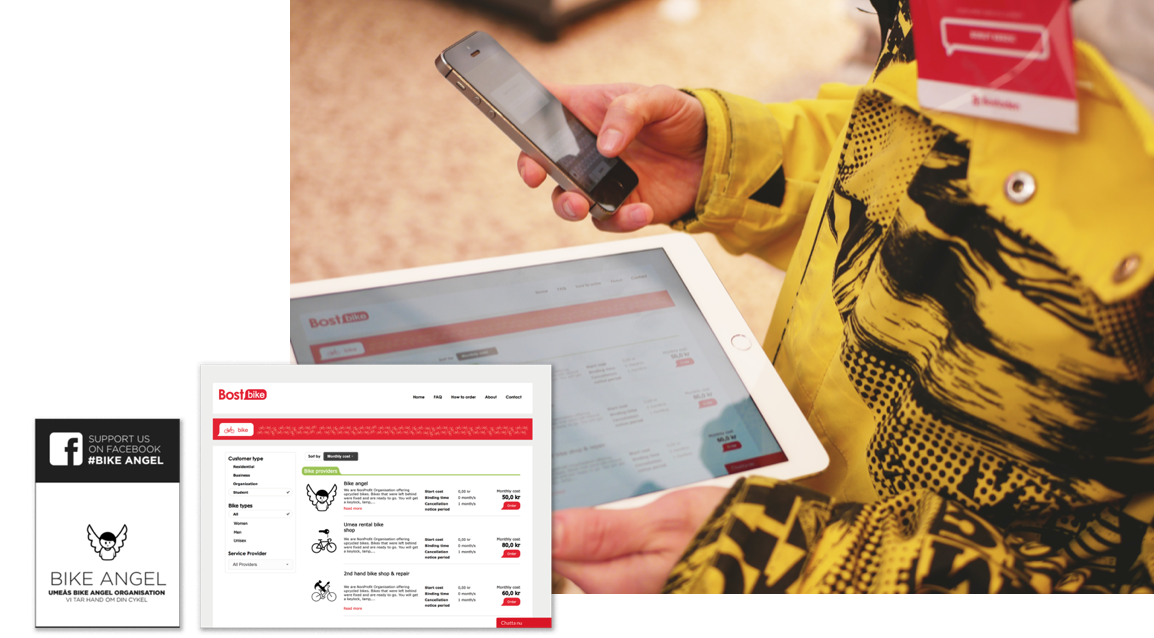 SERVICE INTERVENTIONS AROUND THE CITY
After exploring various ideation techniques, such as impro-theatre and journeys, we came up with new ideas on how the wasteful system of bikes could be improved. In the latter week we produced probes and two fictional service interventions to explore people's reactions in regards to new ways of addressing mobility justice around the theme of biking. We made the service so believable we got many people signing up for the new service on paper and on social media, and started co-creating new solutions with us.
You exposed the problem in a great way, also opening up to the participants own solutions and thoughts.
TECHNOLOGY
For two stations in the exhibition we wanted to give audio feedback. We used boxes, buttons, Makey Makey, Arduino and sensors to trigger the voice telling the story of what our ethnographic insights had shown. For the video, we had a video display triggered by people stepping on three different stations giving them our solution that we made in to small explanatory videos.
MY ROLE + REFLECTION
In this project I was mainly responsible for connecting people together, interview techniques and graphic materials. I explored technical solutions for audio in the exhibition.
I was the presenter of the exhibition and was also responsible of the review wall.
I believe we managed to create a good tool for co-creation. If there was anything I would have done different, it would have been to explore further the circular bike economy we created, applying more direct methods for circular design. I would have explored how this kind of thinking could affect the society even further in to exploring how a completely ownerless sharing system could work.